Mr Tahir Mahmud
BSc (Hons), MBBS, MRCS (Eng), FRCS (Tr & Orth)
Consultant Orthopaedic Surgeon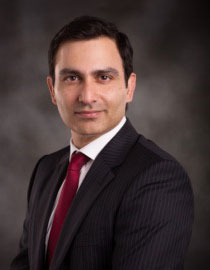 Practicing at:
Spire Regency Hospital, Cheshire
The Alexandra Hospital, Cheadle
Spire Manchester
The Wilmslow Hospital, Wilmslow
Specialties:
Orthopaedic surgery

Arthroscopy
Knee Surgery
Soft tissue injuries
Sports injury
Robotic Assisted Knee Surgery
Hip Surgery
Special clinical interests:
Anterior Cruciate Ligament Reconstruction
Knee ligament injury
Knee Arthroscopy
Meniscal Repair
Cartilage Regeneration Procedures
Robotic Assisted Total Knee Replacement
Total Knee Replacement
Oxford Partial Knee Replacement
Bespoke Patient Specific Total Knee Replacement
Minimally Invasive Total Hip Replacement
Research interests:
Knee ligament reconstruction
Outcomes following knee and hip joint replacement surgery
Current NHS and /or university posts:
Consultant Orthopaedic Surgeon at Macclesfield District General Hospital
Current membership(s) of professional, national and regional bodies:
British Orthopaedic Association
British Association for Surgery of the Knee (BASK)
European Society for Sports Traumatology (ESSKA)
American Association of Orthopaedic Surgeons
General Medical Council
Background Information
Professional profile:
Mr Mahmud is an experienced fellowship trained lower limb reconstruction surgeon, specialising in knee and hip surgery, both of sports injuries and arthritis.
Mr Mahmud trained in London at St Mary's Hospital, Charing Cross Hospital and Chelsea and Westminster Hospital where he undertook specialist fellowship training in sports knee surgery with world renowned Knee Surgeons Mr Andrew Williams and Mr Jonathan Lavelle.
He was then selected by the  prestigious University of Western Ontario in Canada, to undertake a year long fellowship in complex knee and hip joint replacement surgery.
Mr Mahmud is one of the first surgeons to perform robotic assisted total knee replacement in the North West of England. His specialist interests also include knee ligament surgery (Anterior Cruciate Ligament), meniscal repair and cartilage regeneration techniques, knee preservation techniques, uni-compartmental knee replacement as well as minimally invasive total hip replacement surgery.
Since being appointed Consultant Orthopaedic Surgeon at Macclesfield District General Hospital he has built up a busy practice in lower limb surgery dealing with complex knee problems and is the lead surgeon for sports related knee injuries.
Mr Mahmud has a particular interest in knee ligament surgery (Anterior Cruciate Ligament), meniscal repair and cartilage regeneration, as well as complex total knee replacement surgery and minimally invasive total hip replacement surgery.
His research interests include knee ligament reconstruction and outcomes following joint replacement surgery, which he has presented at national and international conferences. He has published numerous articles in renowned Orthopaedic journals and has authored chapters in major Orthopaedic textbooks. Mr Mahmud is heavily involved in training the surgeons of the future.

Personal profile:
As well as being a sports knee surgeon, Mr Mahmud is a keen cyclist and has raised thousands of pounds for charity through some of his cycling expeditions.
Mr Mahmud is married and enjoys spending time with family and friends.
Publications
1. T Mahmud, MC Lyons, DD Naudie, RB Bourne, SJ MacDonald, RW McCalden. Assessing the gold standard: a review of 253 Two-stage Revisions for Infected total knee arthroplasty. Clinical Orthopaedics and Related Research. 2012 Oct;470(10):2730-6.
2. T Mahmud, DD Naudie. Partial Hip Resurfacing for an Osteochondral Defect of the Femoral Head. A case report. Journal of Bone and Joint Surgery (Am). 2012 Apr;2(2); e14 1-6.
3. S Gupta, T Mahmud, A Davy, A Mitchell, AM Williams. Isolated Ischaemic Contracture of Medial Head of Gastrocnemius. Knee Surgery, Sports, Traumatology, Arthroscopy. 2011 Dec 29 (Epub ahead of print)
4. T Mahmud, AM Williams. A Technique for Bone Grafting Tibial and Femoral Tunnels in Revision Anterior Cruciate Ligament Reconstruction.Annals of the Royal College of Surgeons of England. 2011 Mar;93(2),173.
5. A Narvani, T Mahmud, J Lavelle, AM Williams. Injury to the proximal deep medial collateral ligament: A Problematical Subgroup of Injuries.Journal of Bone and Joint Surgery (Br). 2010 Jul; 92(7):949-953.
6. B Akinola, T Mahmud, N deRoeck. Fracture of an Exeter stem- A case report.The Internet Journal of Orthopedic Surgery. 2010 Vol 16(1).
7. T Mahmud. Bilateral Acute Carpal Tunnel Syndrome Following Combined Pancreas and Kidney Transplant- A Case Report and Review of the Literature.Scandinavian Journal of Plastic and Reconstructive Surgery and Hand Surgery. 2009;43(3): Volume 43 (3):174-6.
8. T Mahmud, PHP Dyson, D Basu. Clinical Presentation of Crystal Arthropathy of the Lumbar Spine: A Series of Six Cases and a Review of the Literature.Journal of Bone and Joint Surgery (Br). 2005 Apr;87(4):513-17.
9. T Mahmud, M Arastu, H Ellis. The Distribution of Fluid Within the Intra-peritoneal Cavity: A Cadaveric Study.Clinical Anatomy. 2005 Sep;18(6):443-5.
10. M Jones, T Mahmud, AA Narvani, I Hamid, AM Williams. Epidemiology, Management and Outcomes of the Multiple Ligament Injured Knee.Journal of Bone and Joint Surgery (Br). (Article currently being reviewed)
11. T Mahmud, M Crocker, H Ellis. The Functional Anatomy of the Gastro-Oesophageal Junction.Clinical Anatomy. Volume 17, Issue 3, Page 280 (2004)
12. T Mahmud, M Arastu, H Ellis. The Distribution of Fluid Within the Intra-peritoneal Cavity: A Cadaveric Study.Clinical Anatomy. Volume 17, Issue 3, Page 281 (2004)